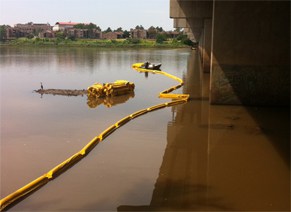 ACME Products supplied and continues to maintain a silt curtain for construction of a bridge project at I-244 and the Arkansas River located in Tulsa, Oklahoma. The $70 million project replaced an aging, local landmark bridge in two phases. Phase one began in June of 2011 and phase two is expected to be completed by the end of 2014. ACME manufactured two sets of 1,100 feet of silt curtains used during each phase of the construction project. The Arkansas River flow rate is controlled upstream by a dam which discharges large amounts of water downstream in the event of a large rainfall. ACME installed the silt curtain using custom anchoring techniques due to the variable flow rates in the Arkansas River. The silt curtain was manufactured with a 6 inch float and a 5 foot skirt depth with 3/8" chain. The curtain was manufactured to meet all of the contractor and DOT specifications. ACME maintained the silt curtain throughout the entire length of the project. Maintenance included re-anchoring the silt curtain, debris removal and silt curtain fabric repair.
Want more information on silt curtains? Contact us today with your silt curtain question or request.
Read all about the bridge opening by clicking here.