Boom School – Presented by ACME Environmental & Rapid Response Systems
Download the Full Information Packet with Agenda and Other Information
As constant evolution takes place in the emergency response industry, each new challenge can be an opportunity to improve. In response to these rapid changes, ACME Environmental and Rapid Response Systems are offering a four-day boom school at the Port of Muskogee from May 22-25, 2023. This boom deployment course will provide emergency responders with the latest technologies and strategies to improve situational awareness and decision-making. This hybrid course will use both classroom and field training exercises with successfully proven deployment and response tactics and strategies as well as new technology and systems for your job sites. Students will learn the best practices for, and the latest solutions to produce, better incident action plans in an event, improve communication, and strengthen their ability to perform their current preplanned response strategies. 
Boom School Outside Staging Area
ADVANTAGES
Hands-On Training
This boom school will include daily classroom and field exercises to provide hands-on training exercises that incorporate proven deployment and digital response tactics and strategies. This course will use three different sites to provide deployment experience across various conditions in addition to a mobile classroom and field command center.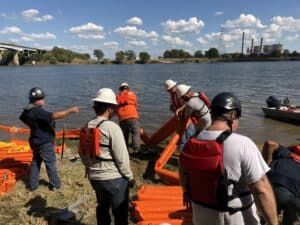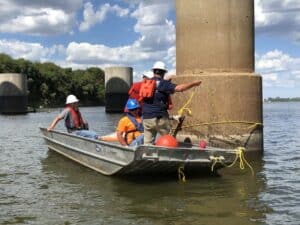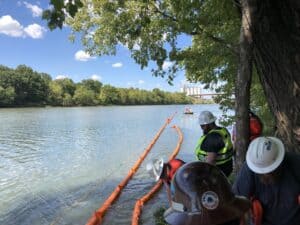 New Technology & Drone Mapping
Infield data collection, remote sensing, mobile laser scanning, automated reports and response plans, and 3D drone mapping are just some of the unique advantages of RRapidmapS that you will learn and utilize during this boom school. Emergency responders will learn about the integration of UAS data and digital forms, which are critical in updating the current situation and leading to informed decision-making.
Satisfy Training Requirements
This boom school will satisfy your boom deployment training as well as cover your 8-Hour HAZWOPER refresher. Each instructor involved brings years of experience in remediation, applying technology, and emergency response. This ensures that students are equipped with practical knowledge and skills when they complete this course.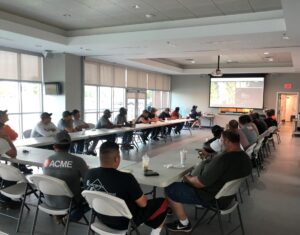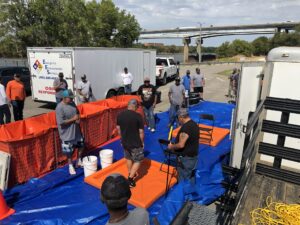 Registration
This boom school is limited to only 20 students so that each student has the attention and training needed to master these skills. Reserve your spot today and make sure you don't miss this opportunity!
REGISTRATION FEE – $1,399
*Registration will give access to one attendee for all four days. This includes lunches and any equipment costs associated. For every two company representatives enrolled, a single-day admission will be given to a supervisor. This will include classroom, field exercises, and technology/drone demonstrations.
**Response equipment will be provided by ACME Environmental and RRS for this training. This includes boats, containment boom, and drone hardware/software for deployments in addition to classroom materials. Attendees should bring their own PPE, which includes: Hard hats, safety glasses, gloves, and personal flotation device (PFD). Steel-toed boots are recommended for safety. If you cannot bring any of these items, please contact us and ACME Environmental or RRS will provide some items on a first-come-first-serve basis.
***Your spot is not reserved until payment has been made. You will be issued an invoice from ACME Environmental when your registration form is submitted.
Are You a SCAA Member?
Ask about our Spill Control Association of America (SCAA) discounted rate!
Government & Military Discounts
Government regulations and active military members will receive a discounted rate at $999.
Lodging
ACME Environmental has secured a block of rooms at the Hampton Inn in Muskogee. Rooms must be booked on or before May 14th. Nightly rate includes free breakfast and WiFi. Let us know if you're interested and we will provide the code when we receive your registration.
Have any other questions? Contact Us
TO REGISTER PLEASE SUBMIT THE FORM BELOW