The Clean Water Act and the National Pollution Discharge Elimination System (NDPES) require that federal and state agencies enforce laws to keep marine ecosystems clean. Not only is it a law that has to be followed, but it's also the right thing to do.
The most efficient solution for compliance with these regulations is through the use of floating turbidity or silt curtains. Turbidity is a term that conveys a measure of relative clarity of water. We are here to help you comply and make sure you receive the right system for your needs.
What is a DOT Turbidity Curtain?
A Department of Transportation (DOT) turbidity curtain is a flexible, impermeable or partially permeable barrier used to trap sediment in water. Each state has their own specifications for this tool, which are regulated by the DOT.
This curtain is generally weighted at the bottom to ensure that sediment does not travel under the curtain. It is supported at the top through a flotation system. Other names for a turbidity curtain include; turbidity barrier, silt curtain, sediment barrier, floating silt fence, and silt barrier.
Why are Turbidity Curtains Important?
Excess turbidity can cause heavy metals to be added to the water supply and be harmful to both humans and aquatic life. The environmental impact of suspended sediment can be detrimental if not mitigated. Turbidity curtains can make a big difference to the stability of impacted marine ecosystems. 
If large amounts of suspended sediment are introduced into the water, it can smother fish by clogging their gills, and make it difficult for fish and other aquatic life to see and catch prey. This sediment can also settle over the top of eggs, preventing them from hatching. It can block light and carry harmful contaminants and pathogens like bacteria, lead, and mercury.
Types of DOT Turbidity Curtains
The Department of Transportation (DOT) has outlined three specific types of curtains required for different situations when it comes to controlling turbidity and sediment:
The type 1 DOT Turbidity curtain is suitable for use in protected waters where the effects of wind, waves, and current are minimal. Ponds, shallow lakes, marshes, and small streams are the ideal use case for this type. 
The DOT Type I curtain is the base model from which the other two types are built. It consists of 18oz, 22oz, 24oz, or 30oz PVC coated fabric, a solid closed cell foam float, skirt length made to fit your job requirements, and a galvanized chain ballast. ACME Environmental goes the extra mile to include a strip of 2″ webbing that runs along the length of the skirt on both ends that is punched with #4 grommets every 6″. This additional webbing strip creates a stronger and longer lasting support for this connection! It is common to use nylon rope to tie this together. We also offer toggle pins as an option for this.
You can limit the slow spread of pollution in water that has minimal movement with type 1 turbidity curtains. Construction project runoff may be mitigated with type 1 turbidity curtains.
Type 2 Turbidity curtains are ideal for silt and sediment control during dredging and marine construction in areas with mild current, wind and wave activity. Lakes, streams, slow-moving rivers, inter-coastal and tidal areas are best served by this type of curtain. 
The DOT Type II consists of the same specification as the Type I curtain, with the inclusion of 18 oz fabric. In addition to these specs, the Type II turbidity curtain has ASTM aluminum couplers (either Slide or Quick Latch) fit to the connection points of the floats. It also has a 5/16″ weatherline top cable for additional tensile strength.
Type II curtains are meant to handle mild movement in the water and can accommodate pressure from dredging projects, construction projects, shoreline repair, and more.
Type 3 Turbidity Curtains combine high strength fabric and heavy-duty tension members that are ideal for moderate current, wind and wave activity. Open water exposed to moderate wind, waves and moving water generally requires this type of turbidity curtain.
The DOT Type III curtain is designed to withstand the most intense of conditions. With all of the added stability as the Type II curtain plus an additional weatherline top cable underneath the float, this curtain is ready for whatever current and conditions you put it through.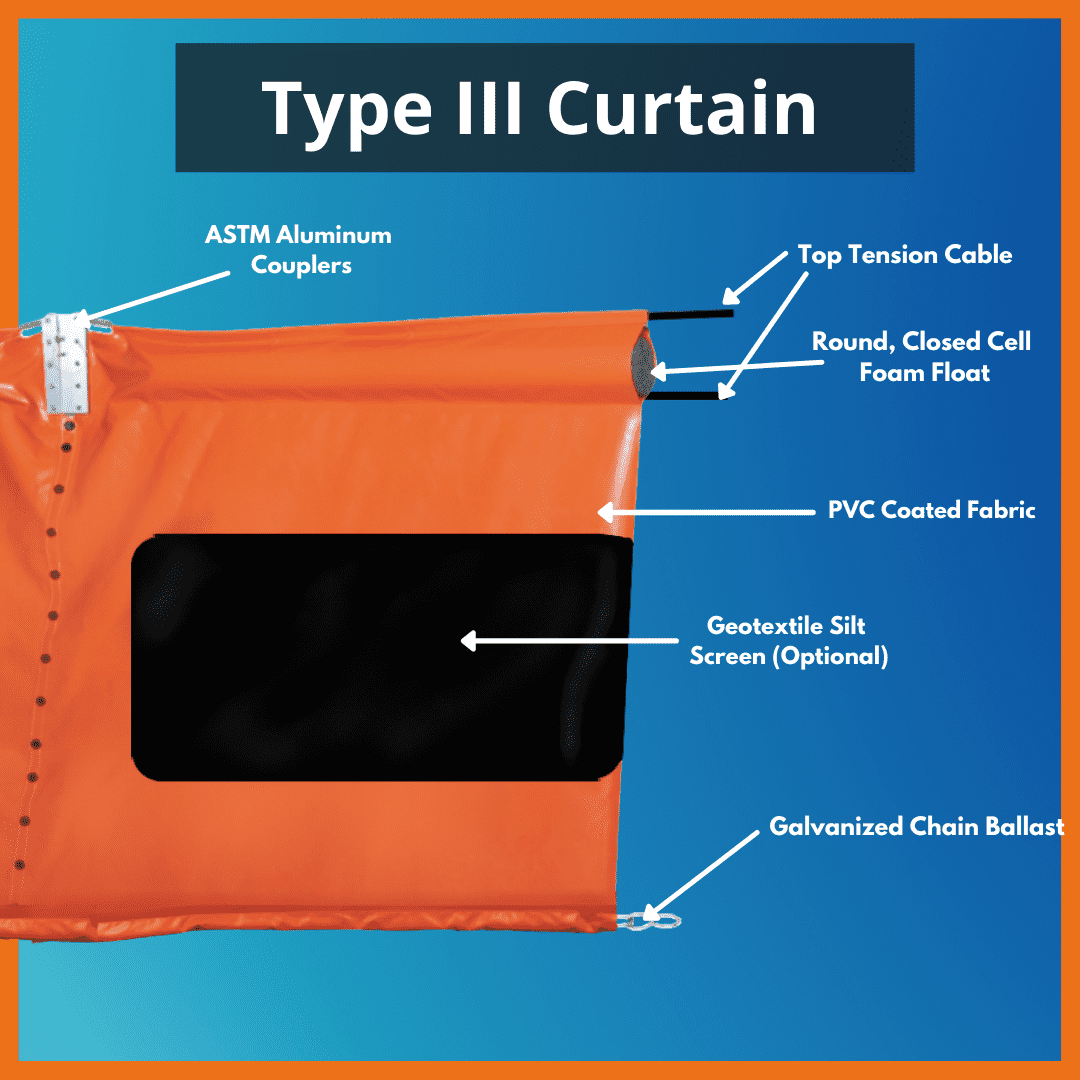 Our Type III turbidity curtain also has the option of a high-tenacity, monofilament polypropylene woven geotextile sewn into the skirt to allow for water to pass through, but stop all silt and sediment from going with it.
Type III curtains are perfect for areas with increased silt buildup, long term projects or high flows, these floating silt screens work to keep sites in compliance. Bridge, intake, and pipeline construction projects may benefit from this type of turbidity curtain.
Get a turbidity curtain quote from Acme Environmental
DOT turbidity curtains play a crucial role in protecting the environment and helping your business remain compliant. ACME Environmental custom-manufactures all three types of DOT turbidity curtains to create a reliable method of controlling silt and sediment. 
Many of our competitors offer products and information on how to clean spills properly but not the actual services to do so. We pride ourselves on maintaining long-term relationships with our customers by providing both quality products and services.
Request A Quote